Rutherford County,
North Carolina
God is up to something in Rutherford County, North Carolina. He is working in the hearts of women here to cause them to hunger and thirst for His Word. Here's my evidence:
I have taken on a new role this year as a Core Group Leader for CBS. CBS started in this county with a handful of women who met for prayer and Bible Study. They had a fire burning within them to fulfill the CBS Vision: "Making disciples of the Lord Jesus Christ in our communities through caring, in-depth Bible study, available to all." Their heart's desire today is the same: to allow women to experience the truth of the scriptures and the caring nature of CBS.
At the end of May, 2013, one hundred and twenty women completed the study of Revelation begun in September, 2012. That was an amazing, unprecedented number of participants. In six years, it had grown from 47 women to 120!
All through the summer, as the leaders met for training, the pre-registration report was given. The first report showed that 120 women had registered, then140 women. Leadership prayed they would be able to shepherd all these women and at the same time, we were praising God for each woman He sent our way.
The study of First John began on September 11th with 160 women registered and 14 additional ladies showing up to register that day. Every Wednesday since then, we've had a few new sheep join the fold. We are currently at 180 plus ladies. God is up to something good!
Monday I attended the Sister Chicks for Christ Ladies Night Out at our local college. Well known Christian author, Angela Thomas, brought the house down with her exposition on Hebrews 12:1-2. With transparency, vulnerability, humor and tenderness she pointed us to the truth of the scripture and to the feet of Jesus. Many accepted Christ as Lord and Savior. Many re-dedicated themselves to an everyday walk with Jesus. This ministry started as a circle of friends meeting in a living room to pray for women in our county.
About eleven years ago, the ladies decided to reach out to other women in the community through an annual Ladies Night Out. Twelve women came that first year. Undaunted, the founders prepared for the next year's night out and prayed for more to attend. About six hundred attended last year. When I went to the box office to buy tickets for our writers group, I asked the attendant how sales were going. She answered, "They are going real well. We've had to open up balcony seating and we've never had to do that for this event." We arrived on Monday night to signs saying SOLD OUT. Every one of the twelve hundred seats held a lady ready to worship and learn. From twelve to twelve hundred ladies in eleven years. God is up to something good!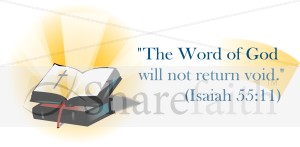 He said, 1"And I, when I am lifted up from the earth, will draw all people to myself." Our job is easy: speak the name of Jesus in our everyday conversations and God will do the work of wooing people to Himself. In another portion of scripture, 2He tells us His word will accomplish the work He sent it to do. If we will use scripture in our prayers and conversations with people, His words will make things happen. It cannot fail. The pressure is off of us so let's get busy in our neighborhoods and communities.
I'd love to hear what God is up to in your community. Leave a comment so I can praise Him with you.
Going out with joy today, speaking His name-
2
Isaiah 55:11 (ESV)

"
so shall my word be that goes out from my mouth;
it shall not return to me empty,
but it shall accomplish that which I purpose,
and shall succeed in the thing for which I sent it."