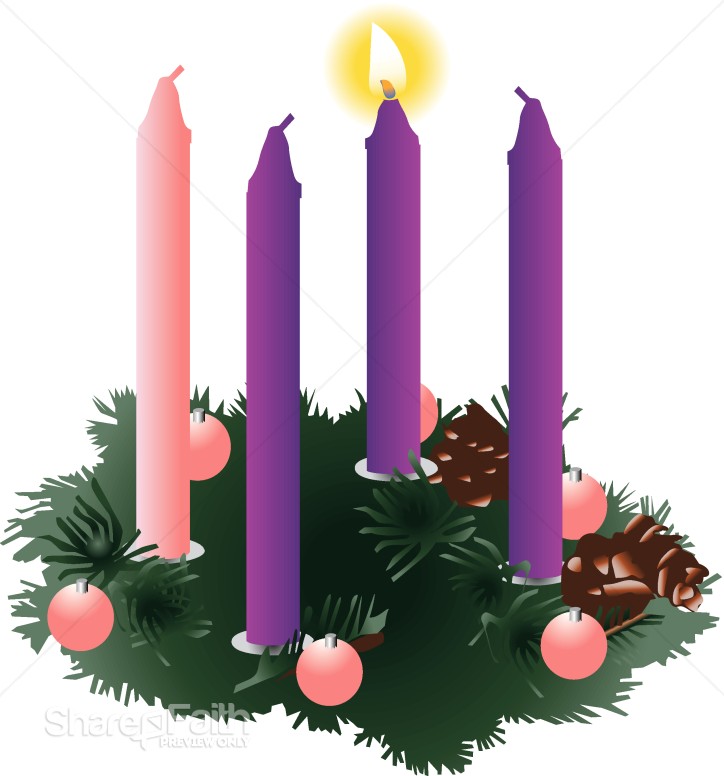 Advent Wreath
The season of Advent on the Church Year Calendar began on Sunday, December 2, 2012. This marks the start of a four-week period in which Christians spend time preparing for the coming of the Messiah.
The word Advent originates with the Latin "Adventus" which translates

"coming" and is the equivalent of the Greek "parousia" which is commonly used in reference to the Second Coming. The season of Advent serves as a dual reminder of the waiting that was done by the Hebrews for the their Messiah, as well as the waiting Christians endure today as they await the second coming of Jesus.
Each week in Advent has a common thread including: a candle with a special meaning that is lit during corporate or family worship; there is a theme; and there are four scriptures. This week's candle is the candle of prophecy, the theme is HOPE, and there are four scriptures, one each from the New Testament, the Old Testament, a Psalm and the Gospels.
Prophesy and hope are two sides of the same coin. Prophesy in the Bible was given as a warning of things to come, a heads-up so that people could change their behavior and receive the reward that is coming. It gave people hope that God loved them enough to give them a second chance to avoid the wrath that would come with disobedience. People living in obedience to God's laws have an endless hope for the future rather than a hopeless end.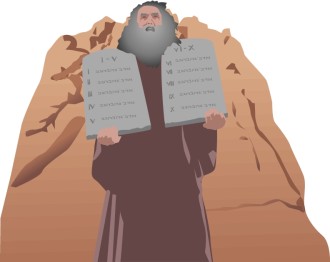 Moses with the
Ten Commandments

Before God gave us the Ten Commandments there were over 900 laws to obey. It was an almost impossible task so God boiled it down to just ten. That was better, but even that was hard. In the New Testament, Jesus boiled it down further to just two rules to live by – Love God with all your heart, soul, mind and strength and love everyone around you.
We do a long list of things to prepare for Christ's coming at Christmas, but what do we do to prepare our hearts for Jesus' birth and His Second Coming? The warning in the four scriptures for the week is to be ready at all times for His coming.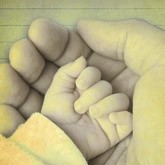 How do we do that? Ask Jesus to come into your heart and be your Savior and then Love God and love those around you. If you need help with that, my e-mail address is hiskid410@gmail.com and it would thrill me to be in the birthing room with you when you are born into your new life in Christ.
I'm praying that God will fill your spirit with hope today and that your journey will be "joy-full" –
The

Lord

's Eternal Covenant with David
14
"Behold, the days are coming, declares the

Lord

, when I will fulfill the promise I made to the house of Israel and the house of Judah. 15 In those days and at that time I will cause a righteous Branch to spring up for David, and he shall execute justice and righteousness in the land. 16 In those days Judah will be saved, and Jerusalem will dwell securely. And this is the name by which it will be called: 'The

Lord

is our righteousness.'
To you, O
Lord
, I lift up my soul.
2 O my God, in you I trust;
let me not be put to shame;
let not my enemies exult over me.
3 Indeed, none who wait for you shall be put to shame;
they shall be ashamed who are wantonly treacherous.
4 Make me to know your ways, O
Lord
;
teach me your paths.
5 Lead me in your truth and teach me,
for you are the God of my salvation;
for you I wait all the day long.
6 Remember your mercy, O
Lord
, and your steadfast love,
for they have been from of old.
7 Remember not the sins of my youth or my transgressions;
according to your steadfast love remember me,
for the sake of your goodness, O
Lord
!
8 Good and upright is the
Lord
;
therefore he instructs sinners in the way.
9 He leads the humble in what is right,
and teaches the humble his way.
I Thessalonians 3:9-13
(ESV)
9 For what thanksgiving can we return to God for you, for all the joy that we feel for your sake before our God,
10 as we pray most earnestly night and day that we may see you face to face and supply what is lacking in your faith?
11 Now may our God and Father himself, and our Lord Jesus, direct our way to you,
12 and may the Lord make you increase and abound in love for one another and for all, as we do for you,
13 so that he may establish your hearts blameless in holiness before our God and Father, at the coming of our Lord Jesus with all his saints.
The Coming of the Son of Man
25
"And there will be signs in sun and moon and stars, and on the earth distress of nations in perplexity because of the roaring of the sea and the waves, 26 people fainting with fear and with foreboding of what is coming on the world. For the powers of the heavens will be shaken. 27 And then they will see the Son of Man coming in a cloud with power and great glory. 28 Now when these things begin to take place, straighten up and raise your heads, because your redemption is drawing near."
The Lesson of the Fig Tree
29
And he told them a parable: "Look at the fig tree, and all the trees. 30 As soon as they come out in leaf, you see for yourselves and know that the summer is already near. 31 So also, when you see these things taking place, you know that the kingdom of God is near. 32 Truly, I say to you, this generation will not pass away until all has taken place. 33 Heaven and earth will pass away, but my words will not pass away.
34
"But watch yourselves lest your hearts be weighed down with dissipation and drunkenness and cares of this life, and that day come upon you suddenly like a trap. 35 For it will come upon all who dwell on the face of the whole earth. 36 But stay awake at all times, praying that you may have strength to escape all these things that are going to take place, and to stand before the Son of Man."