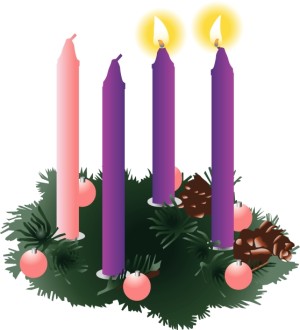 In Week Two of the Advent season, we focus on being prepared for "the coming" as we look forward to celebrating Jesus' birth and the celebration that will manifest itself at the Second Coming.
In the scripture passage for this week, Matthew 3:1-12, we see that God sent Jesus' cousin, John the Baptist, to prepare the way for Jesus' coming by informing the people in advance. Many folks followed John the Baptist in his ministry so there is a body of people who know about Jesus before He actually starts His earthly ministry. This body has been prepared by John's preaching, by Isaiah's long-ago prophecy, and the effects of repentance and baptism.
Biblical Oil Lamps
This preparation reminds me of the story of the ten brides who were waiting for the bridegroom to come. They were to have plenty of oil on hand for their lamps in case he came at night. Half of them had the requisite oil, half ran out before the bridegroom arrived. I am a list maker so this "Be Prepared" which involved items they could physically attain and mark off a list speaks to me.
Then as I further pondered how to be prepared to meet the
Esther is taken
before the King

King, I was reminded of the story of Esther. She was a candidate to become the new queen but she knew nothing about being a queen. For a year before her first appearance before the King, she was bathed, lotioned, perfumed, taught how to dress for the King and how to act when she met him. Our King is coming soon. During this waiting season, let us bathe in His Holy Presence, allow His essence to perfume us, and permit the Holy Spirit to instruct us and guide us.
This week as you look forward to His birthday, think about how you will "Be Prepared." Are you more like one of the ten virgins or Queen Esther?
Going out with joy today-
Cathy
John the Baptist Prepares the Way – Matthew 3:1-12 (ESV)
In those days John the Baptist came preaching in the wilderness of Judea, 2 "Repent, for the kingdom of heaven is at hand." 3 For this is he who was spoken of by the prophet Isaiah when he said,
"The voice of one crying in the wilderness:
'Prepare the way of the Lord; make his paths straight.'"
4
Now John wore a garment of camel's hair and a leather belt around his waist, and his food was locusts and wild honey. 5 Then Jerusalem and all Judea and all the region about the Jordan were going out to him, 6 and they were baptized by him in the river Jordan, confessing their sins.
7
But when he saw many of the Pharisees and Sadducees coming to his baptism, he said to them, "You brood of vipers! Who warned you to flee from the wrath to come? 8 Bear fruit in keeping with repentance. 9 And do not presume to say to yourselves, 'We have Abraham as our father,' for I tell you, God is able from these stones to raise up children for Abraham. 10 Even now the axe is laid to the root of the trees. Every tree therefore that does not bear good fruit is cut down and thrown into the fire.
11
"I baptize you with water for repentance, but he who is coming after me is mightier than I, whose sandals I am not worthy to carry. He will baptize you with the Holy Spirit and fire. 12 His winnowing fork is in his hand, and he will clear his threshing floor and gather his wheat into the barn, but the chaff he will burn with unquenchable fire."
Learn more about Esther by reading the book of Esther in the Old Testament.
The story of the Ten Virgins can be found in Matthew 25 in the New Testament.
If you missed Advent 2013, Week One- Be Alert, read it here.